1957 Chevrolet Bel Air hardtop- older Restoration , Transmission is a TH 350, with 3 Speed, No Radio but wiring is intact, Dual Stainless Steel Exhausts All The Way To The Back, no rust and the body is all metal, Power Disk Breaks.
1957 Chevrolet Bel Air Hardtop 2 Door - *SOLD TO AUSTRALIA!*Great looking car! Runs and drives Excellent!No Post, a real Bel Air!- 2 Door Hardtop- Original Fender Skirts- Automatic Transmission- Ice Cold A/C- Engine V8- AM/FM/CD Radio Blaupunkt ...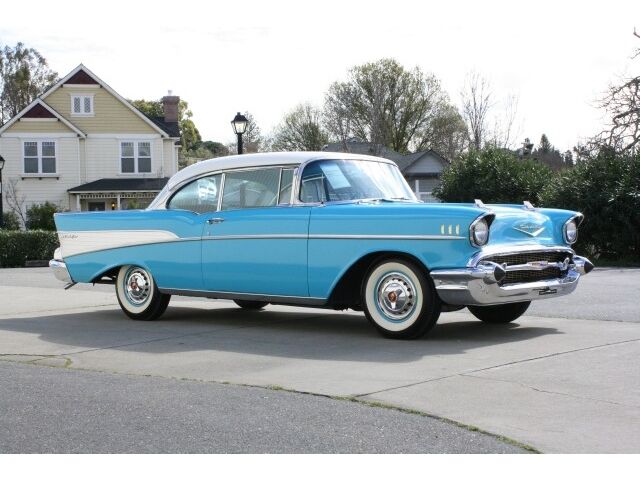 ENGINE SIZE : 283TRANSMISSION : AutomaticFUEL TYPE : GasolineSTOCK NO : 5195DESCRIPTION : 1957 Chevrolet Bel Air HardtopWe are pleased to present a stunning, frame-off, nut-and-bolt restored 1957 Chevrolet Bel Air, finished in correct Tropical ... For sale in: 4321 First St, Pleasanton, Ca, 94566
Full Financing Available!! Excellent Condition!! Classic 1957 Chevy Bel Air Hardtop. All original, 283 motor. Great car Call 770-324-5420 For sale in: Fairmount, Georgia, 30139
This good looking 1957 Chevrolet Bel Air hardtop is the kind of car we all hope to own someday. Combining 1 of the most popular models of all time with a few thoughtful upgrades, it's the ultimate Saturday night cruiser that feels like 1957 and driv... For sale in: , Charlotte, Nc, 28269, Usa

TRANSMISSION : AutomaticFUEL TYPE : GasolineDESCRIPTION : We are pleased to offer this 1957 Chevrolet Bel Air. This is a California yellow plate car that has spent most of its entire life here in Southern California. It was the recipient of a frame ... For sale in: 365-b Clinton St., Costa Mesa, Ca, 92626
1957 Chevrolet Bel-Air 1957 Chevrolet Bel-Air 2 Door Hardtop Stock Photo - Details may vary Vehicle located in Hereford, AZ. Ad ID No. 47606 For sale in: Hereford, Arizona, 85615
1957 Chevrolet Bel Air 2Dr Hardtop Beautiful Car!, Runs and Drives Great! and is a very fast Car! New paint Viper Red 4sp on the floor Hurst shifter New custom interior Two tone Red/White interior V8 Engine Turbo Jet 400 HP Chrome Carb Cover Chrome ...
1957 Chevrolet Bel Air two door hardtop. Painted in white (was originally a 793 code - Onyx Black) with Red and Black interior. Two speed Power Glide automatic transmission. Stock brakes, and rear end. Equipped with factory Power Steering to include ... For sale in: New Braunfels, Texas, 78132
1957 Chevrolet Bel Air 2 Door Hardtop, Park Place LTD, Bellevue, WA, 98005 For sale in: 13710 Northup Way, Bellevue, Wa, 98005, Usa
1957 Chevrolet Bel-Air Not Running, Complete Cars. 57 Chevy Bel-Air Hardtop Stock Photo - Details may vary Vehicle located in Hereford, AZ. Ad ID No. 47605 For sale in: Hereford, Arizona, 85615
1957 Chevrolet Bel-Air 2dr Hardtop Vehicle located in Heath, TX. Ad ID No.39572 For sale in: Rockwall, Texas, 75032